Curry Supply Welcomes New Regional Sales Manager, Patrick Byrne
Byrne comes onboard as the New England Region, Sales Manager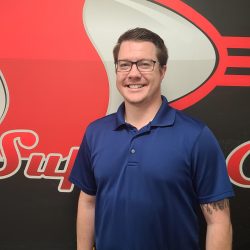 Altoona, Pa., October 2022– Curry Supply Co. is continuously expanding and proud to share the announcement of their newest hire, Patrick Byrne, joining the growing sales team as a Regional Sales Manager.
In this role, Patrick will be responsible for achieving maximum sales profitability, growth, and account penetration within the assigned territory of New England (ME, DE, NY, NH, RI, MA, VT, CT) by effectively selling Curry Supply products and related services.
Some of Patrick's responsibilities include:
Promote and sell Curry Supply's product portfolio to existing and prospective customers.
Establish and work to maintain business relationships with current and future customers within the New England territory.
Communicate and create valued customer relationships to expedite their struggles and present strategic solutions for their needs.
He will coordinate his sales efforts with marketing, sales management, accounting, logistics, and technical service groups after analyzing the territory's potential and determining the value of customers to the company.
Byrne was born and raised in Milford, CT, and graduated from Mount Saint Mary College in Newburgh, NY with a finance degree. After College, he resided in Albany, NY, and started his career working for Bank of America in commercial banking. He transitioned into the trucking industry thanks to the influence of his father, who drove the fire engine for the city of Stamford, and his grandfather, who moved from Ireland and had a career as a Class A driver for the Teamsters.
Patrick has valued experience from his previous employment with a local Mack and Volvo dealership and expertise in business development with an OEM chassis business in the Northeast region.
When asked what he was most excited about for the new job, Pat mentioned, "I am excited to join Curry Supply as the Regional Sales Manager for the Northeast region. The leadership has implemented a winning culture and provided all the tools to succeed, and I look forward to contributing to the growth of this company." The Curry Team is happy to have him on board and excited to see him succeed in his new role.
A family-owned company since 1932, Curry Supply has grown to be one of America's largest manufacturers of commercial service vehicles. With locations in Pennsylvania, Texas, and Arizona, the company is equipped to provide custom and work-ready trucks for the agriculture, construction, mining, oil and gas, rail, rental, and waste industries. To learn more, visit currysupply.com.